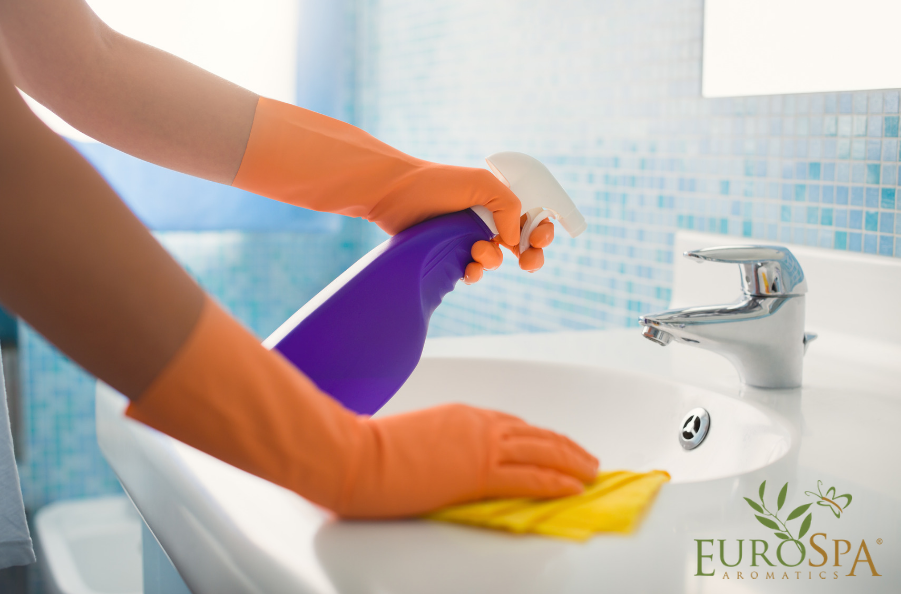 You may think it takes too much time and effort to make your own natural cleaning supplies at home, but it's easier than you realize and studies show us that toxic, conventional cleaning supplies are bad or your health, your child's health and the health of the planet.  

The truth is, these recipes are simple and you will feel great peace of mind knowing that you are bettering the overall health of your home. We've gathered the ingredients needed for you to make the most basic, natural multi-purpose cleaning supplies, quickly and convenient for your busy schedule.
Ready for it?
Here's what you're going to need: 

baking soda

white vinegar

lemons

castille soap

essential oils (lemon, tea tree, lavender, thyme, eucalyptus & orange are all options)

spray bottles
For the Windows: For those that love vinegar, you're going to love this one. You just mix 3 tablespoons of vinegar with 2 cups of water into a spray bottle (bigger jobs – 1/2 cup V to 1 gal of H2O) and spray right on to your windows. Is this effective?  Yes. Does it smell good? No. If you can't handle the smell, a mix of lemon juice and club soda will do the trick just as well. Do make sure that if you use lemon juice, you use lint free cloth like newspaper to wipe them down with.  (you can also add a little lemon juice to the vinegar solution as well, just avoid pulp) 

All Purpose Germ Killer: This one is easy. Mix 2 cups of water with a few drops of castille soap and about 15 drops of your chosen essential oils. You can spray this on all kinds of surfaces in your home from changing tables  and fixtures to counter tops and walls. Just don't use it on glass, because the soap will make it streak.  Additionally, you can use our own Eucalyptus Shower Spray, not only to enrich your shower experience but also to cleanse the air by spraying it into the air and on to surfaces.

For the Toilets:  Everyone's favorite place to clean right?  This one is simple.  You can take some of the window cleaner you made (preferably with the lemon juice) and spray generously around and inside the toilet.  Then sprinkle some baking soda on top of it and let it sit for about 10 minutes.  Come back, scrub and watch it shine!

Prevent Mold: Mold is incredibly dangerous for you and your family and once it starts, it's extremely hard to get rid of!  So start with prevention.  Take a spray bottle with 2 cups of water and add about 5 drops of tea tree and thyme oil to the bottle.  Spray on walls, in closets, in bathrooms and behind furniture and then wipe down.  The anti-septic and anti-mircrobial nature of tea tree and eucalyptus oil will combat the mold before it really has a chance to take over. 

At Eurospa, your health is our priority.  We want you healthy on the inside and out.   We hope you enjoyed this list and would like to invite you to experience our Eucalyptus Shower Mist & Menthol Crystals for an even more enhanced, natural health experience!