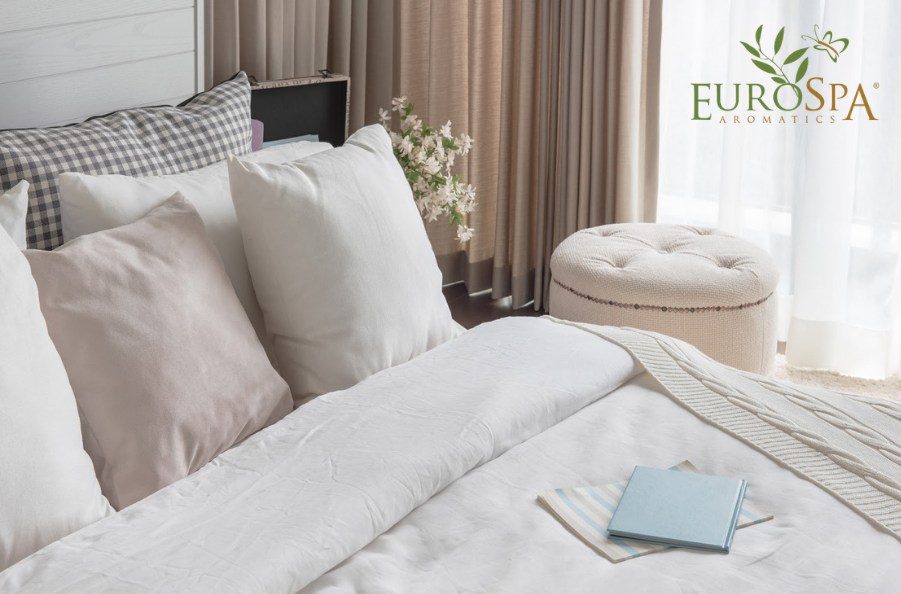 Have you considered using a pillow spray or mist to help provide a better night's sleep? We're answering some of your top questions about this soothing product. We're exploring the benefits of a pillow mist, discussing ingredients, and sharing our preferred alternative. (Spoiler alert: you can use our ShowerMists outside the shower!)
What is a pillow spray or pillow mist?
A pillow spray is an essential oil-based product sprayed directly onto bed pillows (or linens) to provide an aromatherapeutic experience. Usually, the mist is added right before bed. Once dry, the scent prepares the body, mind, and mood for optimal relaxation. 
Some of the common essential oils found in pillow sprays are Lavender (for its amazing, calming effects), Menthol (for its aide in opening nasal passageways), and Eucalyptus (for an exhilarating, delightful experience.)
What are the benefits of pillow spray?
Pillow sprays are infused with aromatherapy ingredients, so a deep inhale will provide you with the aromatic benefits of your preferred scent. This includes restfulness, relaxation, and calmness, which all work together to provide optimal rest. Additionally, pillow sprays are easy to use — a light mist is all you need. Since it is sprayed directly on to your pillow or sheets (right where you'll be snuggling for hours), the full effects are experienced without much effort. 
How much does a pillow spray cost?
The cost of pillow sprays vary depending on size, ingredients, and brand. Expect to pay between $30 and $80 (or more!) for 8 oz. of product — the ingredients of which may not be evident and the quality questionable. Keep reading to know what to look for. 
Are pillow sprays safe?
Yes — if you do a little research. With so many different ones on the market, it is important to find a pillow spray with only safe ingredients. Some claim to be "natural" or "organic" but contain other dilutants or alcohol (keep an eye out for Ethanol, a type of alcohol which is a solvent used to extract botanical oils). This can increase the chance for an allergic reaction and reduce the effectiveness. 
Our advice: Always have a look at the label to see what's in the product. If the label doesn't clearly indicate what's in it, be cautious or skip it entirely for another that lists all the ingredients and has third-party testing to ensure quality and purity. See our rundown of the pros and cons of pillow mists.
Is there an alternative to pillow sprays?
Yes! EuroSpa Aromatics has captured the aromatic benefits of an easy-to-use pillow spray but added the possibility of shower use with our 100% Pure Eucalyptus Oil ShowerMist. This all-natural, plant-based, steam-distilled mist has no synthetics, alcohols, or petrochemicals. It is 100% pure Eucalyptus oil, and our infusions use 100% pure botanical oils. 
Our ShowerMists can be enjoyed in several ways. First and foremost, you can use it as a naturally-effective pillow spray alternative. Yes! Simply spritz a few sprays on your pillow, wait a few seconds for it to dry, and breathe in those amazing benefits while you sleep! Or use it to create a spa-like steam room experience in your own shower. When your shower starts to get steamy, spritz a few sprays into the steam cloud, away from your eyes. Finally, if you prefer, you can even add it to a diffuser.
In our ShowerMists, we kept all the good, removed the bad, and created a product that functions in multiple ways. Now that you have a little more information about pillow sprays, we hope you will be able to find the one that best supports your relaxation goals.